Massage Therapy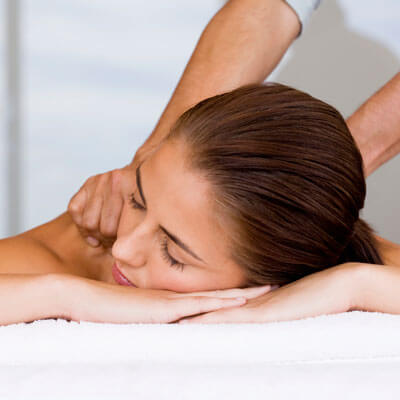 Massage therapy provides a drug-free and conservative treatment approach that relieves musculoskeletal pain for many patients. Dudum Chiropractic provides specific massage and muscular therapy that is tailored to meet the patient's condition and injury.
Massage is the perfect complement to your chiropractic care. While the focus of chiropractic is on the relationship between the spine and its influence on the nervous system, massage focuses on the body's 650 muscles.
Both chiropractic and massage work together to help keep the body in proper alignment, balance and function.
Types of Massage
There are many different kinds of massage to meet the individual needs of each patient.
Deep tissue: This type of massage uses sustained pressure using slow deep strokes to target the inner layers of muscle and connective tissues.
Hot Stone: Smooth, flat heated stones are used to relax and ease tense muscles and damaged soft tissues in the body.
Swedish: Considered to be the most popular massage technique, Swedish massage uses five basic strokes to relieve muscle pain and joint stiffness.
Therapeutic: This type of massage combines remedial massage and relaxation massage to help the body relax and address tight spots.
The benefits of massage therapy may include the following:
Increase blood circulation
Reduce swelling
Relax muscles
Relieve muscle and joint pain
Help with chronic postural issues
Aid in recovery and range of motion
Plus, it just feels good!
We have four registered massage therapists on staff. They use various techniques and are highly skilled. Our MTs will provide customized massages to meet your unique needs. Essential oils and lotions may be used during your massage.
Most patients will get a 60-minute massage to break up scar tissue to decrease stress, improve range of motion, to help relax prior to getting their chiropractic treatment. Patients also sometimes will come in on a different day as a great adjunct to their customized plan. They will be under a plan of chiropractic care but also receive massage therapy to help break up scar tissue and get through their symptoms.
Do I have to undress completely?

No, you can address to your level of comfort. If you have a full body massage, most people choose to undress completely. However, you can elect to leave your underwear on. Your massage therapist will give you privacy to undress and get comfortable on the table before your session begins.
How long will my massage last?

Your massage will typically last for about an hour. Many people choose to have a 60- or 90-minute massage for optimal relaxation.
How often should I get a massage?

It depends on what your goals are. For example, if you're just seeking relaxation, then coming in every 3-6 weeks may be ideal. If, however, you would like a particular condition to be addressed, we recommend that you come in more frequently in the beginning. Then you can slowly reduce the number of visits to a maintenance schedule. You can discuss the recommended frequency of visits after your initial session.
Contact Us Today
Ready to get started? Contact us today to schedule an appointment. We're open seven days a week for massage therapy.
CONTACT US »

Massage Therapy Walnut Creek CA | (925) 300-3302