Non-Surgical Spinal Decompression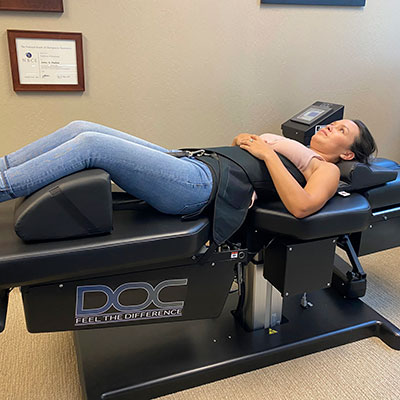 Maybe you've tried surgery for your back pain or herniated disc. Or perhaps you're seeking to avoid surgery and are looking for a non-invasive therapy to address your cervical and low back pain. At Dudum Chiropractic, we are now offering non-surgical spinal decompression with the state-of-the-art DOC table.
Why We Choose the DOC Table
Our table is unique in that we can flex or extend the table to target different areas of the spine, such as herniated discs, so we can provide specific treatment. With the DOC table, we can get as specific as targeting the L4 or 5 discs or the L5S1 disc.
How It Works
The pull of the table creates enough needed force, which is called the vacuum effect. That's an exchange of nutrients, chemicals and waste products that allows the discs to heal. Non-Surgical SD, when combined with chiropractic, is beneficial for patients who have tried conventional chiropractic or different types of medicine.
Here are some of the most common issues for which patients seek this therapy:

Chronic inflammation
Herniated discs
Low back pain
Neck pain
Paget's disease
We see a lot of patients who have been told their only option is surgery. The good news is we've helped many of those patients avoid going under the knife. We've also assisted those who have had failed surgeries and thought their only option was to get a follow-up surgery.
Your non-surgical spinal decompression treatment is part of your care plan that's tailored to meet your unique needs. We provide a whole-body experience to get our patients the best results. For example, your plan may include several decompression sessions, as well as laser therapy and chiropractic adjustments.

No. Many patients feel a sense of relief and relaxation while receiving the therapy. Check out our YouTube video that demonstrates how it's performed.
Does it work?

Yes, non-surgical spinal decompression has an over 90% success rate with symptom reduction.
How long is a session?

Your session, which takes 30-45 minutes, includes other therapies.
Is there anything I need to wear for this therapy?

No, just wear whatever clothing you're comfortable in.
Is there an age limit for this therapy?

No, but for older or younger patients, we can change the logistics of the table to make it more gentle. We can always adapt the settings based on a person's age or condition.
How many sessions will I need?

Every patient is different, but you may require 12-20 sessions to get optimal results.

Non-Surgical Spinal Decompression Walnut Creek CA | (925) 300-3302