Fast, Effective Headache Relief in Walnut Creek
Welcome to Dudum Chiropractic
People suffering from chronic headaches and migraines can relate to being in agony, in a darkened room, with no sound. Their throbbing head feels as though it is splitting in half and you're nauseous, maybe even vomiting. They just want the pain to go away… and never come back. At Dudum Chiropractic, we can help!
If you routinely take medication, you aren't experiencing a cure – you are simply masking the symptoms of your headache instead of experiencing long term, lasting relief. Dr. JD Dudum helps patients find relief from migraines by finding and treating the root cause of the problem instead of continuing to cover up the symptoms.
Natural Chiropractic For Headaches
Dr. JD Dudum has helped many patients suffering from headaches and migraines regain their active lives. While a medical doctor is likely to prescribe drugs, our approach is different and completely natural. Chiropractic care offers fast pain relief and lasting results without drugs or surgery.
Free Consultation
Right now, you can schedule your first visit with us for free. Contact us now to schedule a complimentary consultation with Dr. Jd Dudum and learn more about how chiropractic care can relieve your headaches and give you back your life.
What are you waiting for? Use the form below to request your appointment now!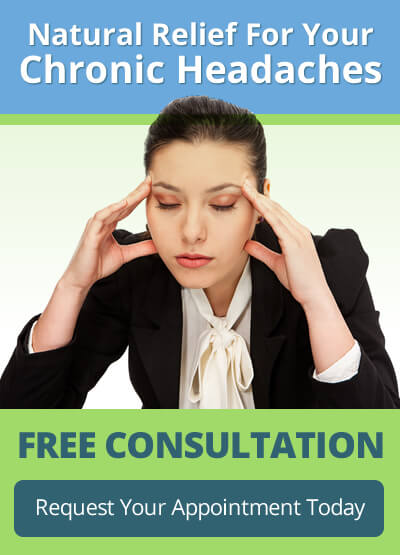 Book Your Consultation Now
The doctor relieved any concerns I had. Very friendly and made me feel very comfortable.

Staff was very friendly and professional. The receptionist was very pleasant and sent reminders prior to my appointment. The assistant was very thorough when taking my medical history and major complaints and the doctor was super upbeat, and encouraging regarding my treatment. A very pleasant office atmosphere. I can't wait to start my treatment.

Very friendly office staff and everything was explained to me about my treatment. Thank you.

Denise D.

Great first visit and I'm looking forward to continuing my chiropractic care with Dr. Dudum.

Ryah M.

Dr. Dudum and his team are awesome! I initial came in to see Dr. Dudum due to severe joint pain in my left foot. Three weeks later, the swelling is gone and I'm fully mobile with no pain. I greatly appreciate the time and attention I receive from their office. Google Review

Angela G.

I really enjoyed my first visit and I'm looking forward to my next appointment.

Front desk staff are outstanding! Dr Dudum you are an excellent chiropractor thank you for your help.

Relief from back/hip pain thanks to Dudum Chiropractic care! THANK YOU!!

Best experience with a chiropractor, hands down. Thank you for making the experience as calming and welcoming as possible.

Madison P.

Great first visit! Thank you!

Lindsey M.

I'm very happy I met Dr. Dudum. My back is so much better now. He and his staff are pleasant and helpful. And the office is nice. I look forward to my visits.

Toni T.

Everyone is super friendly. Really made me feel welcome. I have herniated discs and the doctor listened to what I had to say about my pain and explained what the problem is and how he may be able to help. He is going to put put together a treatment plan that will hopefully help me. First experience in the office was really great. Great staff!

I am glad to have found such a fantastic facility and look forward to being on the mend. I am also happy that you will be able to service my son through his athletics.

Dr. Tong was great, made me feel welcome from the first second!

The folks up front were so helpful. They made everything flow easily and efficiently.

Nico V.

I really enjoyed meeting Dr. Nick, and appreciated the amount of time he took to explain things, evaluate my situation, and do a treatment. I am very hopeful I will find some relief for my pain.

Nancy L.

Thank you for listening!

Rick E.

Dr. Dudum is wonderful at his practice. He pays attention to details to help diagnose the issues affecting ones' body, and carefully listens to your concerns, leading to effective treatment. His care really helped me from my first visit on.

DR T and the whole staff were welcoming and very attentive. Thank you to them after 2 visits and 1 treatment I feel great!

Very knowledgeable. I noticed an improvement after just one visit which was amazing!

Was exceptionally pleased with the whole office. I moved and was interviewing several offices to find the right chiropractor. This was the one I chose!

Great customer service and communication. Very skilled doctors.

Dr. JD always relieves my pain! He understands what hurts, where and how to fix it fast!

Happy to have found JD Dudum Chiropractic. Wonderful, feeling much better and hopeful that all my joint pain will soon be a distant memory.

Don't change a thing, keep up the great work!

Jeff N.

The initial process was straight forward, quick and easy. Everyone was very warm and welcoming the entire time. The constant positive energy that all the staff have reflects greatly on the office and how the practice is run.

Carly J.

I liked the fact that I wasn't just brought in to crack my back but evaluate my situation and come up with a game plan to fix it.

Mike B.

I felt much better after the first treatment and slept better. The following day, I was able to exercise and move easier without pain.

I appreciate the professionalism and genuine care that Dr. Dudum and his team has showed me. I am so glad that I became a patient here. Thank you!

Monica G.

Not only was my consult excellent but I have relief after my first adjustment appt. Also his treatment plan was very reasonable to get me back in shape.

Becky T.

Dr. Dudum is personable, professional and really helped me! I have no hip pain now and could barely get out of bed or walk when I first met with him.

Jeniffer P.

Dr. Dudum is a wonderful chiropractor. I am back playing golf after being treated by him. He solved my back pain problem in a short time! He is very personable and has great knowledge of chiropractic care. His staff are friendly, warm and professional. I highly recommend him to anyone looking for an active lifestyle.

I felt "heard" for the first time in months and came away very hopeful that I can get rehabilitated and resume my prior activities. Yay!
Top Bay Area Chiropractor Located In Walnut Creek